Camarillo Acorn: Group rides to help keep bicyclists safe
BikeVentura's launch party is mentioned in the Camarillo Acorn (3 March 2017)
VCCOOL, a grass-roots climate change organization, will launch a new initiative, BikeVentura, at a party from 7 to 10 p.m. Sat., March 4 at the Bell Arts Factory, 432 N. Ventura Ave.

BikeVentura is a political action and advocacy initiative tasked with coordinating with city and county government agencies throughout Ventura County to insure bicyclist safety, bicycle-centered active transportation and road use.

The event will include entertainment by The Salty Suites, hors d'oeuvres by Scratch Ventura and Topa Topa Brewery will sell beer. All proceeds will benefit the BikeVentura nonprofit.

The public is welcome. RSVPs are requested at Ventura Bike HUB's Facebook page. The Ventura Bike Hub is another VCCOOL program.
VC Reporter: Ventura Bike Hub launches new initiative
BikeVentura Launch Party highlighted in the VC Reporter (1 March 2017)!  
VCCool is launching its new initiative, BikeVentura, and with it comes reason to hop on your six-speed and brave Ventura's city streets for a night of fundraising fun.

On Saturday, March 4, 7-10 p.m., BikeVentura will host a fundraiser at the Bell Arts Factory, 432 N. Ventura Ave. in Ventura, featuring hors d'oeuvres provided by Scratch Ventura and beer provided by Topa Topa Brewing Co., with all proceeds benefiting BikeVentura, a 501(c)3 organization.

BikeVentura offers a diverse series of programs, including one in development to give homeless individuals the skills needed to repair their own bicycles, oftentimes their only means of transportation. Coming soon: a Fillmore outpost as well.

Yvonne Adan, chairman of the board, says that all are welcome at the Ventura Bike Hub, where repairs can be had for $5 an hour along with tips and pointers on bicycle care and maintenance.

"One of the things about cycling is that you not only want to work, but you want to have fun, so we try and combine work and fun," said Adan.

For more information on BikeVentura, and the Ventura Bike Hub, visit www.facebook.com/VenturaBikeHUB.
BikeVentura Launch Party & Fundraiser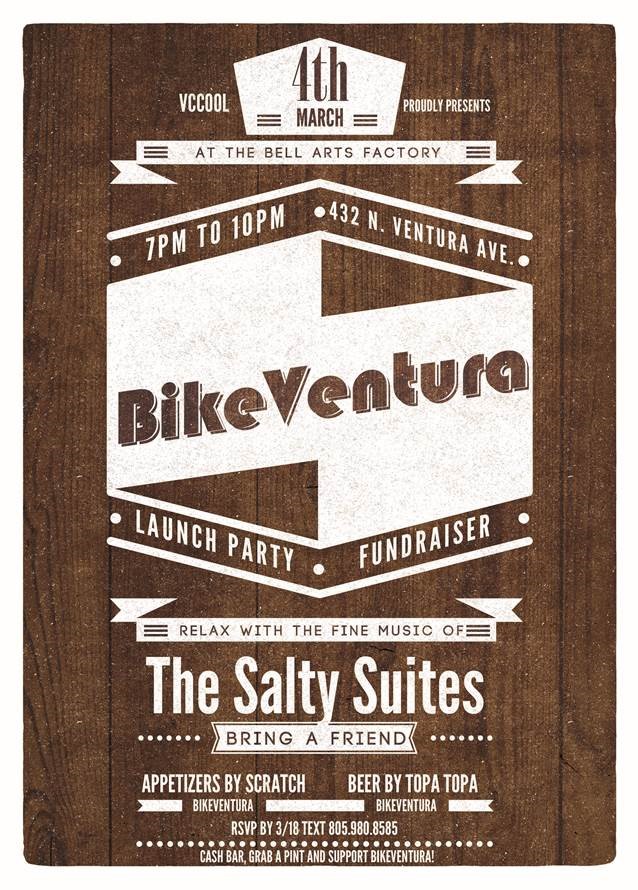 Join VCCOOL in welcoming the launch of BikeVentura. BikeVentura's mission is to foster a safe, healthy community through bicycle-centered education, empowerment, and advocacy in Ventura County.
The launch party will include LIVE music provided by the SALTY SUITES, Appetizers by Scratch, and a cash bar with wine and Topa Topa Beer!
All proceeds from the launch party fund BikeVentura's efforts! Learn how to get involved with Ventura Bike HUB (a DIY community bike shop), participate in Ventura bike activism, and promote safe cycling in Ventura County!
All ages welcome. Bring your family and friends.
Please RSVP on Facebook or text 805.980.8585!